"

A full dance floor is how we measure success" - Luna Upfront
Pat Reyes and Luna Upfront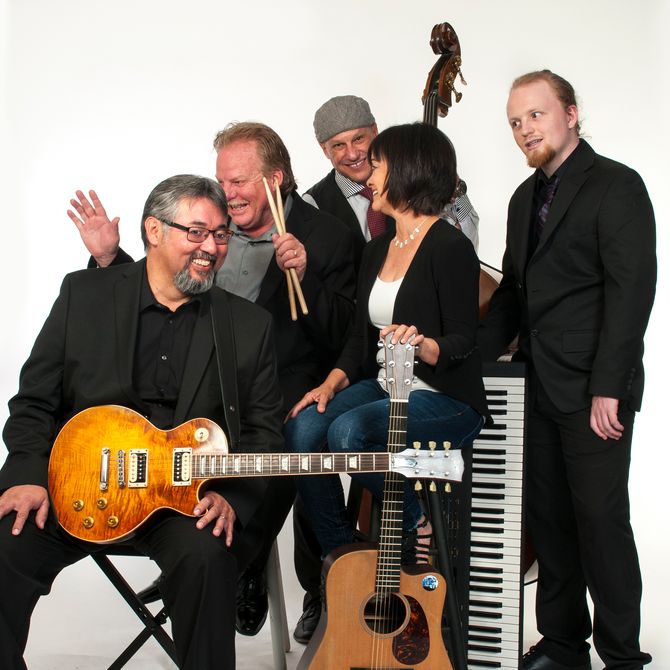 Albuquerque's Premier Dance Band
Pat Reyes and Luna Upfront is a true variety dance band, playing music with an emphasis of getting your guest on the dance floor.  Playing Pop, Disco, Country, Cumbias, Rancheras, oldies. Getting your guest moving is what Pat Reyes and Luna Upfront is all about.
Pat Reyes, a Uvalde Texas native has been preforming in the Albuquerque area for the past 19 years with the Pat Reyes Trio, and shortly after the release of her "Angle's" CD in 2013, Pat and Bill Nelson became the founding members of Luna Upfront. Luna Upfront has played casinos such as Sandia, Sky city, Route 66 and have had multiple appearance at the state fair and have become a crowd favorite at local bars and night clubs. 
Bill Nelson (Drums) a founding member of Luna Upfront, comes from a Rock and top 40 background, playing the scene in Albuquerque with the top 40 dance band MLC (Mid Life Crisis).
 Joe Sena (Guitar) comes from a rock background as well playing with the rock cover band Killingracy for over 12 years, Joe cut his variety music teeth playing with the band JAGG and has made guest appearances with recording artist Gonzalo. 
Mike Silveria (Bass) A master of songs and a reliable and important part of the rhythm section. with his meticulous approach to music. Mike comes from Calvary Church and anyone who knows about the musicians at Calvary know they only pick the best.
Pat Reyes and Luna Upfront have had some success early in 2021. With their single "Esperando" getting local radio air play on KANW in Albuquerque, KNMX in Las Vegas NM, KDCE in Santa Fe, KXMT in Toas  and KNMM in Albuquerque and in fact reached the number one slot on KNMX and number three KNMM.  Pat Reyes and Luna Upfront have been asked to participate in the 2021 KXMT Mother's Day celebration in Taos NM. 
TOP 10 
KNMX RADIO 
April 2, 2021                                        Honorable Mentions: 
Pideme La Luna - Daniel Lee Gallegos Para Toda La Vida - Anakaela Trujillo                                                                    10) Azucar - Simpatico David Mori Vigil      9) Besito Chiquito - Chelsea Chavez            8) El Chubasco - John Burch                           7) Emocion Pasajera - Joey LuAnn Chavez                                                                     6) 30 Cartas - LilRey Montoya                         5) La Cumbia De San Antone - Gilbert Sanchez                                                                   4) La De La Mochila Azul - John Fernández 3) TIE --- TIE --- TIE ----- TIE         A Mover El Bote - Frank Gonzales               Se Me Olvido Otra Vez - Mandi. Amanda Gonzales                                                                     2) TIE --- TIE --- TIE ---- TIE                     Prisonera De Tus Brazos - Esmeralda Trujillo                                                                    Las 5 Letras - Luisa Gaytan                                 1) Esperando - Patricia Reyes Y Luna Up Front
Press Photos